PRODUCTION DESCRIPTION
Roadside Hands Free SOS Call Box JR330-SC-SIP

This roadside emergency GSM & 3G telephone is designed for outdoor use, based on a cold rolled steel with powder coated body, and stainless faceplate, offers increased resistance to vandalism, and ensure that the primary function of communications is maintained at all times.
GSM/ 3G connection offers wireless communications to provide a completely standalone telephone installation. The GSM phone greatly reduces installations costs by eliminating running wires.
APPLICATIONS
Roadside Hands Free SOS Call Box JR330-SC-SIP

It is ideal for Highway side use, other than that, it is often used at university and college campuses, streets, public square, car-parks, police stations, outside buildings, shopping malls, industrial areas and remote areas.
MAIN FEATURES
Roadside Hands Free SOS Call Box JR330-SC-SIP

- Standard SIP/VoIP, GSM/3G telephone
- Robust housing, constructed of cold rolled steel
- Vandal resistant metal button
- Hands free operation
- Wall/ Pillar mounting, simple installation
- Weather proof protection: up to IP65
- CE, FCC, RoHS, ISO9001 compliant
- Supplied with 12VDC Power Supply (GSM/3G version)
- External power supply or PoE (SIP version)
- RJ45 Port for SIP connection
- Compatible with standard SIP protocol, independently accessible to VOIP phone system.
(Asterisk, Elastix,Grandstream,Cisco,Yeastar etc. mainstream IP-PBX)
- One button programmable for speed dial
- Single or Dual button auto-dial options with remote programming
- Two indicators: one for power supply; one for phone state
- Support message function for low battery, door opening & low signal strength
OPTIONAL
- Add Horn & Lamp on the top
- Key lockable latch
- Upper & lower internal mounting plates
- Flat label area or custom embossed logo on door
- Vandal resistant screws for upper mounting plate
TECHNICAL PARAMETERS
3G Version
Power Supply
12V DC
Power Consumption
-Idle:0.3W
-Active: 1.5W
Communication Type
Full duplex
Ringer volume
90~95dB(A) at a distance of 1 m
Program Method
Remote programming by SMS
Frequency

A version:

- Dual-Band WCDMA/HSDPA 850/1900MHz
- Quad-Band GSM/GPRS/EDGE 850/900/1800/1900MHz

E version:

- Dual-Band UMTS/HSDPA 900/2100MHz
- Quad-Band GSM/GPRS/EDGE 850/900/1800/1900MHz

J version:

- Dual-Band UMTS/HSDPA 850(800)/2100MHz
- Quad-Band GSM/GPRS/EDGE 850/900/1800/1900MHz
Ambient conditions
Protection type
IP 66 as per EN60529
Operating temperature
-40°C to +70°C
Storage temperature
-45°C to +85°C
SIP Version
Power Supply
PoE or 12V DC
Power Consumption
-Idle:1.5W
-Active:1.8W
SIP Protocol
SIP 2.0 (RFC3261)
Support Codec
G.711 A/U, G.722 8000/16000, G.723, G.729
Communication Type
Full duplex
Ringer volume
- 90~95dB(A) at a distance of 1 m
- 110dB(A) at a distance of 1 m (for external horn speaker)

Package
unit size: 530 *280*200(mm)
Carton size: 600*320 *240 (mm)
Packaging materials: pearl cotton, carton
Gross weight: 9.5 KG
Net weight: 8.5 KG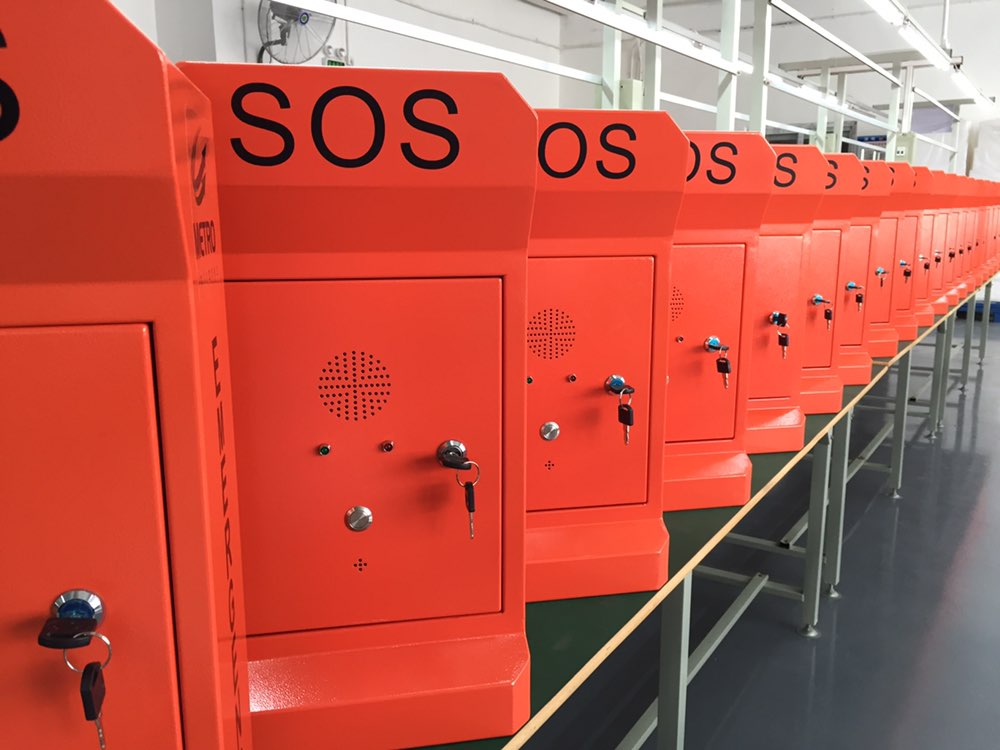 Hot Tags: roadside hands free sos call box jr330-sc-sip, China, manufacturers, suppliers, factory, company, brands, buy, best, high-quality, products,Wall Mounted Telephones wall sip phone,waterproof grade ip67,speed dial telephone,Emergency Audio Intercom,handsfree telephone,rust proof telephone,No keypad phone,Indoor analogue telephone,SOS Emergency Telephone,waterproof telephone,landline telephone,waterproof industrial telephone,weatherproof telephone,Emergency Button telephone,GSM Emergency Telephone,IP55 Waterproof Telephone,intercom,payphone