PRODUCTION DESCRIBLE
Robust Housing Yellow SIP Call Box JR306-SC-SIP
Housed in cold rolled steel box and manufactured to a high standard, this SOS call box offers increased resistance to vandalism, and ensure that the primary function of communications is maintained at all times.
Extremely easy to install. The cable entrance is on the back of the phone to prevent from artificial damage, while the keypad is weather and vandal resistant.
MAIN FEATURES
Robust Housing Yellow SIP Call Box JR306-SC-SIP

- Standard SIP/VoIP telephone
- Robust housing, constructed of cold rolled steel
- Vandal resistant metal button
- Hands free operation
- Wall/ Pillar mounting, simple installation
- Weather proof protection: up to IP65
- Single or Dual button auto-dial options with remote programming
- External power supply or PoE (SIP)
- RJ45 Port for SIP connection
- Compatible with standard SIP protocol, independently accessible to VOIP phone system.
(Asterisk, Elastix,Grandstream,Cisco,Yeastar etc. mainstream IP-PBX);
- CE, FCC, RoHS, ISO9001 compliant
TECHNICAL PARAMETERS
Voice Features
- Support 2 lines SIP, SIP 2.0 (RFC3261)
- Codec: G.711A/u, G.7231 high/low, G.729, G.722,G.726
- Echo cancellation: Support G.168 and hand-free can support 96ms
- Supports full duplex.
- SIP support SIP domain,SIP authentication(none, basic,MD5),DNS name of server, peer to peer
- SIP support 2 servers, user can through each server to calling in and out
Network Features
- WAN/LAN: support Bridge mode
- Support PPPoE for xDSL
- Support VLAN
- Support Stun penetration
- Support DHCP get IP on WAN port
Ambient conditions
Protection type
IP 66 as per EN60529
Operating temperature
-40°C to +70°C
Storage temperature
-45°C to +85°C
APPLICATIONS
Ideal for Railway applications, Marine applications, Tunnels. Underground Mining, Firefighter, Industrial, Prisons, Jail, Parking lots, Hospitals, Guard Stations, Police stations, Bank halls, ATM machines, Stadiums, inside and outside building etc.
PACKAGE
Unit size: 301 *180 *120 (mm)
Carton size: 200*300*440 (mm)
Packaging materials: pearl cotton, carton
Gross weight: 6 KG
Net weight: 5 KG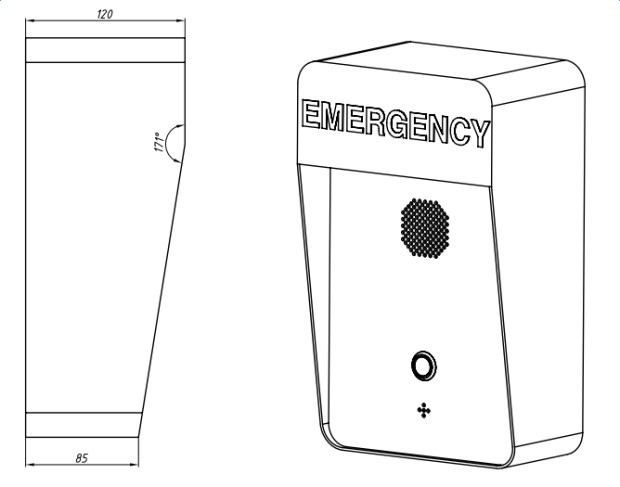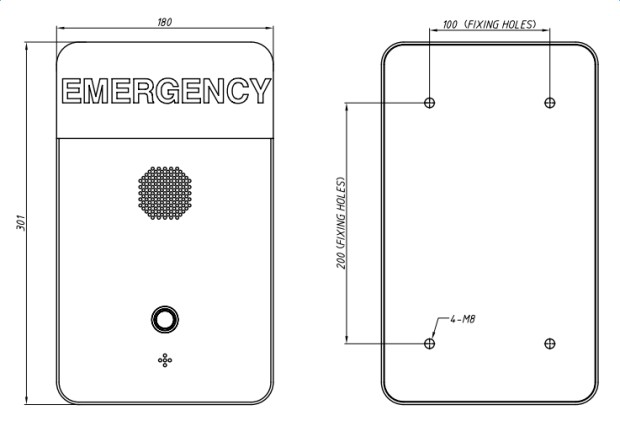 Hot Tags: robust housing yellow sip call box jr306-sc-sip, China, manufacturers, suppliers, factory, company, brands, buy, best, high-quality, products,service telephone shenzhen telephone,sip waterproof telephone,SOS Phone,SOS Telephone,stainless steel phone,telephone,Telephone,Intercom System,telephone voip,vandal proof telephone,vandal resistant telephones,VoIP Emergency SOS Telephone,voip orange phone,voip orange phone,wall mounted phone